So close to school yet so far from education: Sixteen-year-old Class Seven pupil now mends shoes
By Delfhin Mugo
The journey from Lowareng'ak Boys Primary School to Ekeno's home takes less than five minutes on foot. Ekeno is a sixteen-year-old class seven student who has been locked out of school due to the ongoing coronavirus pandemic and a team from Save the Children is on a mission to find out what he has been up these past few months that schools have been closed.
Upon arrival, we find Ekeno seated on a wooden bench in the furthest corner of the homestead. There are no books around to indicate that he was doing private studies, as one would expect from a student who is just two years away from a major and decisive national examination.
Instead, at least two pairs of sandals are arranged neatly in front of him. One of the shoes is resting on his laps and we take note of the awl on his right hand. To his left is a small plastic container holding, not drawing equipment or pens, but what looks like his latest tools of trade: a sharp knife, a hammer, spare leather and thread.
Despite being so close to his school, it is evident that Ekeno is so far from education thanks to the Covid-19 pandemic that has halted learning in Kenya and across the globe. So, when schools closed and with no access to formal education, Ekeno started to work as a cobbler.
"I do this job so as to help my mother feed the family," he says, adding that he has three elder brothers and three younger ones who look up to him. His mother, a widow, does menial jobs to keep the family afloat and sometimes— often times— brews alcohol to supplement the family income.
Ekeno cuts the figure of a child carrying the weight of the whole family on his shoulder. We ask him if he misses school days and what he likes most about school.
"I miss hanging out with friends. I miss learning a lot because when I am at home I can't do private studies because of responsibilities and duties. I also miss school games. I love football," he says.
Before the virus hit the country and when going to school was a daily routine for him, he says he used to wake up at 5am and be in school 30 minutes later. Today, he wakes up an hour early and it has nothing to do with studies.
"I feel sad because without education you can't make progress in life. I would also like to grow my football skills and get scouted to play for the national team. I can't achieve that dream when I am out of school," he says, lamenting about his prolonged stay at home.
During the pandemic, the government of Kenya and book publishers introduced a host of remote learning tools and resources. A student would however need to have a laptop, a TV set or a smart phone to access learning. But for poor households such as Ekeno's that live from hand to mouth, remote learning tools are luxuries they cannot afford. Ekeno says he hasn't been able to access any form of remote learning since the schools closed on March 20th 2020.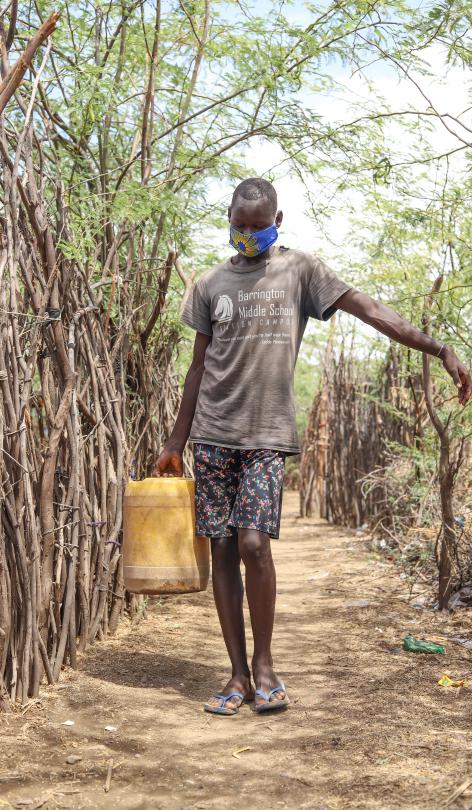 Children like Ekeno needs support in the form of hand washing stations, sanitizers and face masks. They also need all the support they can get to access some form of education. Save the Children through its intervention has been providing hand washing stations, soaps and buckets to various health facilities and communities to help curb the spread of Covid-19. We are also running a campaign called Save our Education that is rallying efforts to ensure that all children including the poor and marginalized return to school as they reopen.