Save the Children's Hassan Mumin works to bring change for children in conservative communities in Mandera
By Delfhin Mugo
Hassan Mumin doesn't mind spending hours in the harsh weather of Mandera County if that helps bring health services closer to his community, most especially to mothers and children.
Mumin is a health coordinator for Save the Children's field office in Takaba, Mandera. He oversees implementation of health project activities in the County and on that hazy day when he feels a bit reluctant to wake up, he thinks of the many mothers who will most likely deliver at home, the several babies who will go unvaccinated and many more who face the risk of developing cerebral palsy as a result of birth complications. So every morning, he says, he has more reasons to wake up than not to.
By design, his job demands that he spend at least seven days a month in the field ensuring that activities are being implemented in accordance with the donor requirements and that the programming is of the highest attainable quality.
He was born and spent a significant part of his childhood in Wajir County, which neighbours Mandera. Coming from a humble background his chance at education were very slim. So when an aunt offered to take him in and through school in Machakos, slightly over sixty kilometres from the Kenyan capital Nairobi, he jumped at the opportunity.
Today, he is a graduate of Kenya Medical Training College in Nakuru, with a diploma in clinical medicine and surgery.
"I always wanted to work in the medical field. Plus growing up my friends and I used to joke that if there was ever going to be a chance at employment, then that would be in the medical field. This is because we came from a very remote area that suffers from a shortage of health care workers," says Mumin, adding that in college there were only four of them who came from this region.
You see, communities in Mandera, an arid part of north-eastern Kenya, face myriad health challenges due to harsh climatic conditions, food and water scarcity, poverty, long distances to health facilities and the nomadic way of life.
But Save the Children has been trying to solve some of these problems for years now by training community health volunteers, implementing community-based health outreach programmes for hard-to-reach villages, developing capacities of health care workers and supporting existing health facilities through infrastructure development. Doing so, however, would be next to impossible without people like Mumin and his colleagues in Takaba. Mandera County, as is the case with its neighbours, is a bastion of conservative Islamic orthodoxy, patriarchy, and deep cultural beliefs and practices. These are so entrenched in the daily life that it would be so hard for an outsider, however well-meaning, to penetrate the community and implement liberating health or education programmes.
To put things into perspective, for instance, Mumin gives the example of attempting to implement a project to do with family planning here.
"Because the community uses religion as a key factor to determine their way of life, there are societal norms that you cannot go against," he said. "You cannot for instance do a campaign that advices mothers to stop giving birth because that goes against the religious beliefs, however one can advise and propagate on modern ways to space their children so that they can raise healthy families."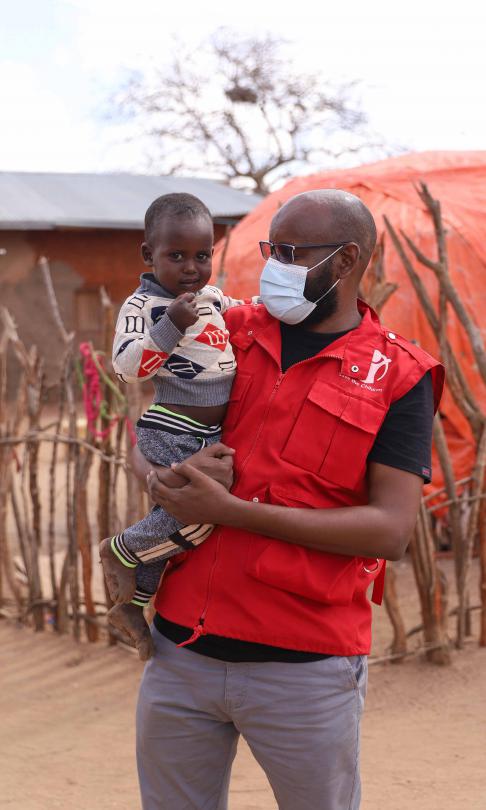 One of the projects Mumin is overseeing involves supporting two sub-counties of Mandera West and Banisa in Mandera to identify and link disabled children to health care services. This is done through a chain of trained community health volunteers and a designated occupational therapist who undertakes a monthly household-level field visit to offer the basic life-saving services. So far, he says, 89 children have been treated, with 12 making full recovery and 10 children supported with assistive devices improving quality of lives for children living with disabilities.
As the country continues to fight the Covid-19 pandemic, now using the vaccine as well, we asked Mumin how the outbreak affected his community.
"Mostly it has been loss of livelihood as most people depend on casual labour and with lockdown they can't access opportunities. Access to health care services was limited as many feared to go to hospitals. Outreach services were also suspended during the peak period," he offered.
As he sets off for yet another hot day in the field, Mumin is upbeat about the deep transformations happening in Mandera now. He is also glad the community is rising from the ruins of Covid-19 pandemic.