Save the Children's donation of cold chain equipment helps bring life-saving vaccines closer to children
When the Kibra vaccine depot was first opened in August 2020, it did not have a single freezer. Therefore, Ann Boraya, the depot manager, would store and collect vaccines that require freezing at the Langata Sub-county depot, located several kilometres away, every month. This exercise, however noble, consumed a lot of time for her and in the end proved to be a herculean task. So in May 2021 when Save the Children with funding from Pfizer Foundation donated cold chain equipment – 2 freezers and 4 fridges— to Ministry of Health's Kibra vaccine depot, Ann could not hide her joy.
It felt like a huge load had been lifted off my shoulders. The fact that I'm now able to store all the vaccines within our facility and do not have to go all the way to Langata Sub-county to collect freezable vaccines is a huge relief," she says with a big smile on her face.
To put it simply, proper storage and handling of vaccine is important in preventing and eradicating many common vaccine preventable diseases. Poor storage and handling errors can reduce vaccine potency, resulting in inadequate immune responses in patients and poor protection against diseases. In addition, patients may lose confidence in the vaccines and the providers if a revaccination is required because they received a compromised vaccine.
Until mid-2020, Langata Sub-county depot served 63 immunizing facilities drawn from Kibra and Langata Sub-counties. The challenges that came with this role was compounded by inadequate storage capacity and minimal space that led to overcrowding during issuance of vaccines and longer travel distance especially for facilities from Kibra Sub-county.
The Kibra depot was officially opened at the peak of the COVID-19 pandemic at Mbagathi County Hospital in August 2020. It was meant to serve 30 immunizing facilities from Kibra Sub-county, thereby offloading the workload at Langata depot. But starting off with only two fridges and zero freezer, inadequate storage capacity quickly became a major challenge.
With funding from Pfizer Foundation, Save the Children has donated cold chain equipment to Kenya's Ministry of Health facilities in Kibra and Langata sub-counties following a gap assessment that was conducted at the onset of the project. 5 freezers, 18 refrigerators, 23 temperature monitors and 80 vaccine carriers were donated to the facilities in the two sub-counties. The Kibra depot received 2 freezers and 4 fridges. The other fridges were distributed across 13 health facilities in Kibra that had previously struggled with use of domestic refrigerators, while the remaining freezers were distributed to the Langata depot, Karen sub-depot and Kianda 42 sub depot.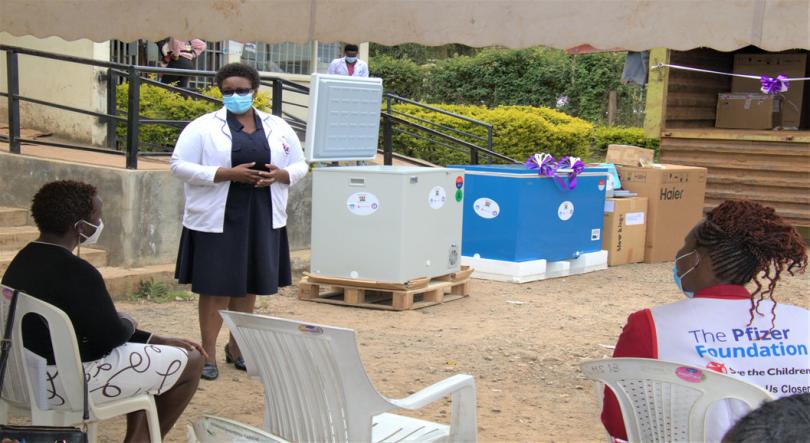 Lucy Kanja, Langata Sub county public health nurse addressing stakeholders during the cold chain equipment handing over ceremony at Langata health centre.
The 80 vaccine carriers that we received have gone a long way in supporting mobile teams during immunization exercises. Additionally, facilities serving the informal settlement in Kibra and Langata sub counties have received digital temperature monitoring devices, ensuring that supervisors can easily generate reports to see how facilities are handling their vaccines and which ones need support," says Ms Boraya.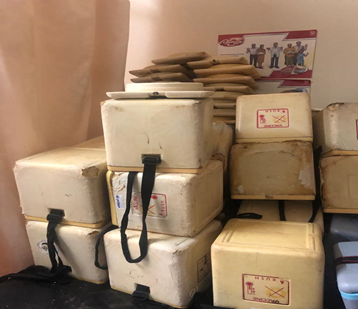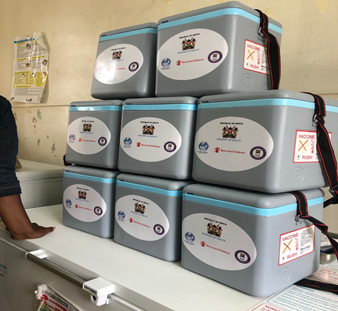 Left – vaccine carriers used by healthcare workers before Save the Children donated new vaccine carriers.
With this support, the vaccine storage capacity at the Kibra depot greatly improved raising its profile so much so that it is currently the central depot for COVID-19 vaccine in Nairobi County. It is serving 17 depots across all the sub-counties in Nairobi. In addition, the Kibra depot has been able to comfortably support two rounds of polio campaign and a measles rubella campaign.
As I walk into Mbagathi County Hospital that hosts the Kibra vaccine depot, I am amazed by the winding long queue of people braving the cold July weather to receive their second dose of COVID-19 vaccine. The joy of the outcome of the donation of the cold chain equipment by Save the Children to the Kibra depot is further highlighted by the cheerful greetings from Ann, the depot manager, who is busy preparing for the distribution of vaccines in the second polio campaign exercise.
With my current storage capacity, I have had a lot of free time in my hands that I have dedicated to mentoring immunizing officers so as to build capacity of staff in the immunizing facilities in Kibra Sub-county," she told Save the Children.
Background / Project information
Maternal and Child mortality continue to be a major public health challenge in Kenya especially among marginalized communities in Arid and Semi-arid areas as well as urban informal settlements. Inequality in access and utilization of immunization services is a major contributor to performance gaps. The overall goal of this project is a sustained reduction in mortality among children under age 5 in Kenya. The project intends to achieve this goal through 3 main objectives; increased immunization coverage; increased social acceptance, care seeking and health-promoting behaviour for immunization services by families and communities in project sites; improved capacity of Ministry of Health (MoH) and National Immunization and Vaccines Program (NVIP) division to steward the vaccines and immunization program.

Save the Children Staff led by Ian Vale (Regional Director, ESA), Yvonne Arunga (Country Director, Kenya and Madagascar) and the Ministry of Health staff led by Dr Asma Awadh pose for a photo next to one of the freezers donated to Kibra depot during a tour of the facility.
Story by Cynthia Ngesa