OFDA Supported health outreach reprieve for communities in Turkana
By Marion Kwambai
In Ng'imuriae village in Kerio Ward, Turkana Central, three young girls under four years attend an integrated health outreach with their mother Margret Ekaru. This is her second visit to the outreach center which pitches camp here every two weeks.
On examination at the outreach programme, the youngest child is found to be severely malnourished and had to be put on nutrition supplements. She also receiving outpatient therapeutic treatment comprising of ready to eat therapeutic foods, routine antibiotics and vitamins. She is also being treated for an eye infection.
The family travelled for one and a half hours, a distance of 70 KM from their village to arrive here for the much needed health services. The nearest health facility is Kerio and would cost them 300 shillings on a motorbike. There is no public transport in that area.
Due to the extreme weather experience in the region, access to vital health services has been difficult as communities are suffering effects of drought and flooding that have become worse due to global change.
"If I miss food at government distribution centers we eat "mikoma"-wild fruits," said Margret adding that on some days the long distance to the distribution centers dissuades her from taking the journey and they resort to eating the wild fruits.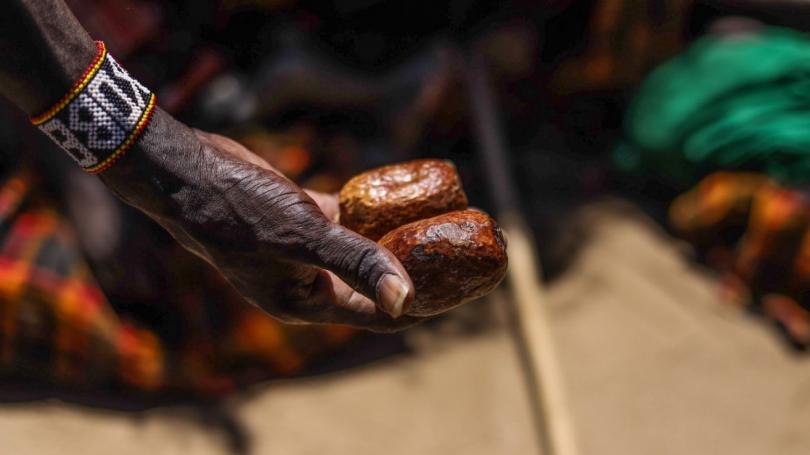 The outreach centers are supported by Save the Children through the Office of U.S. Foreign Disaster Assistance (OFDA). They provide communities with routine health care and treatment for common ailments.
Using simple interventions, the integrated health outreaches would offer general health services which mainly include general checkup by the nurse who determines whether there is need for further medical diagnosis which may require a referral. Also offered are immunization services for children. Reproductive health education and services are also offered.
Children are the most affected by the impact of climate change and the extreme weather that areas in Northern Kenya like Turkana, Wajir and Madera are experiencing. Income loss and food supply shortages caused by droughts and flooding can lead to nutritional deprivations that can have both immediate and lifelong impacts on infants and children.