No more river bank deliveries for mothers thanks to 'The Bridge of Hope'
By Delfhin Mugo
Nuria remembers the day like it was yesterday. She was seated in her manyatta preparing food for her three children. Her fourth baby was on the way and if she had keenly followed the moon pattern—mothers in Mandera use the moon cycle to estimate their delivery date— she was due to deliver any time soon.
So, on this hot evening of March 2018, when she felt a dull ache in her back and lower abdomen, she knew the time had come. She was going into labour and progressing fast.
"I immediately called my husband who in turn sent for the traditional birth attendant to assist me in delivery," she told Save the Children.
Unbeknownst to Ms Hassan though, the traditional birth attendant (TBA) and nine others from neighbouring villages had signed a memorandum of understanding with Yusuf, a nursing officer at Derkale Dispensary, promising not to deliver pregnant women at home but instead refer and accompany them to the healthy facility.
Running out of options and time, her husband hired a taxi and the three left for Derkale Dispensary. But less than 500m from the gate of the health facility, they met their biggest hurdle. You see, Derkale is a small village in Banissa Constituency, Mandera. Out of the four seasonal rivers that flow through the village, River Langtangi has been the biggest headache of them all. It cuts through the village, separating it from the only health facility.
The river is so notorious that whenever it rains in other parts of Banissa, the surging waters cuts off Derkale in two, the dispensary on one side and the village on the other. This is what happened when Ms Hassan needed the health facility so badly.
"When we got there and I saw that the river was swelling with water and we couldn't make it to the other side, I simply let go and gave birth right there by the river side," recalls Ms Hassan.
Mr Yusuf, the nursing officer at Derkale Dispensary, who went to see how the mother and child were doing at home and to vaccinate the baby, said he has lost count of the number of women who have had to deliver by the river.
"Many of them attempt to cross the river even when the water is chest-high. I remember a day when a TBA broke her leg while trying to assist a mother to cross the river," says Mr Yusuf. "So many mothers have delivered by the river bank and at home as they waited for the water level to fall."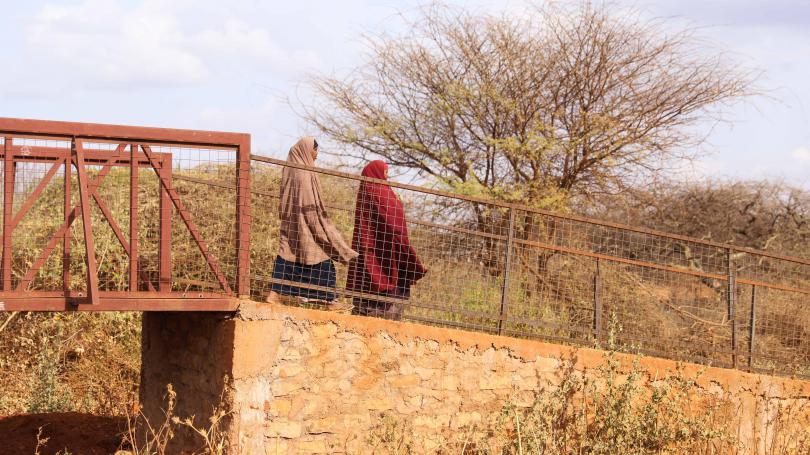 For a number of reasons, this arid region of northern-eastern Kenya has been heavily underserved by public health care. For instance, until 2012 when the government constructed a dispensary in Derkale, residents would walk more than 40 kilometres to get health services. "Mandera is one of the counties contributing the highest to maternal deaths in Kenya due to issues including high total fertility rate (the more the babies, the higher the likelihood of death); low contraception rate (prevents unwanted, many or closely spaced pregnancies which are risk factors); terrible infrastructure; many socio-cultural barriers all underpinned by poverty, low education, nomadic lifestyle," said Dr Lynn Kanyuuru, Save the Children Head of Health and Nutrition.
In 2014, pregnant women and mothers, who had lost hope of ever delivering in a hospital under the care of qualified health care workers got their reprieve when the county government funded the construction of maternity unit at Derkale Dispensary.
Save the Children has supported the facility by training TBAs and converting them into community health volunteers and birth companions, capacity-building the health care workers, infrastructure improvement and provision of Mama Kit (a complimentary package containing essential products for the baby, meant to motivate more women to deliver in hospital).
But even with a fully equipped health facility, the headache for Derkale women was far from over, thanks to Langtangi River. But not anymore. Last year, Kenya Rural Roads Authority (KERRA), a government agency, heard the cries of Derkale mothers and built a footbridge for them. They named it "The Bridge of Hope" and true to this name, Mr Yusuf says, it has restored the hope of mothers delivering under the care of qualified health care workers. According to him, the facility is delivering an average of 30 mothers every month from Derkale and the neighbouring villages.
"We have changed the story of Derkale from zero health facility deliveries in 2018 to zero home deliveries by 2020," says Mr Yusuf.
Indeed, the awe-inspiring story of Derkale and "The Bridge of Hope" is a clear illustration of just how access to health care can at times be hampered by external factors that have nothing to do with the facility itself.
For Mr Yusuf, the footbridge was the missing link that had made Derkale Dispensary look like an isolated health outpost.
Mandera
The Kenya Population Situation Analysis report observes that 15 out of 47 counties including Wajir, Mandera, and Garissa account for 98.7% of all the total maternal deaths in the country. Mandera is also among the least developed counties with the average distance to health facilities ranging between 25 and 50 kilometers. System level barriers also play a part in the low uptake of services with large distances to health facilities across harsh geographical terrain, high turnover of staff due to insecurity and difficult working conditions, weak referral systems, stock outs of essential commodities and supplies such as lab reagents and weak supervision systems especially of remote facilities. Further to this, 60-70% of the population in these counties is estimated to be nomadic or semi-nomadic. Representing some of the most marginalized and disadvantaged populations, nomadic and semi-nomadic populations have the least access to health services and are disproportionately vulnerable to diseases due to the mobile existence and the associated high cost of improving access to services. These populations are notably missing in government policies and strategy documents that drive resource allocations in health.