Humanitarian Assistance: Save the Children launches emergency response program for crisis-affected populations in Wajir and Garissa Counties
The food security situation in Northern Kenya continue to escalate with almost 2 million people facing food crisis driven by recurrent droughts, floods and other shocks such as locust invasion.
On 15 July, Save the Children and Garissa County signed a memorandum of understanding (MOU), to kick-start a project that will see the two partners work together to respond to the crisis in the County. The project is funded by USAID-Bureau of Humanitarian Assistance with the goal of providing immediate, lifesaving, and life-sustaining assistance to communities facing food crisis in Wajir and Garissa Counties. The project aims to reach 92,000 beneficiaries in both counties
While speaking during the launch ceremony, County Secretary Abdi M. Ali, who signed the MOU on behalf of Garissa County Government, appreciated the partnership with Save the Children, observing that the county government was keen to formalize co-ordination with partners for better implementation and monitoring of initiatives.
He also made a clarion call to Save the Children to extend its support into other areas like developing model early childhood education centers and vocational training centers and also support Community Health Volunteers.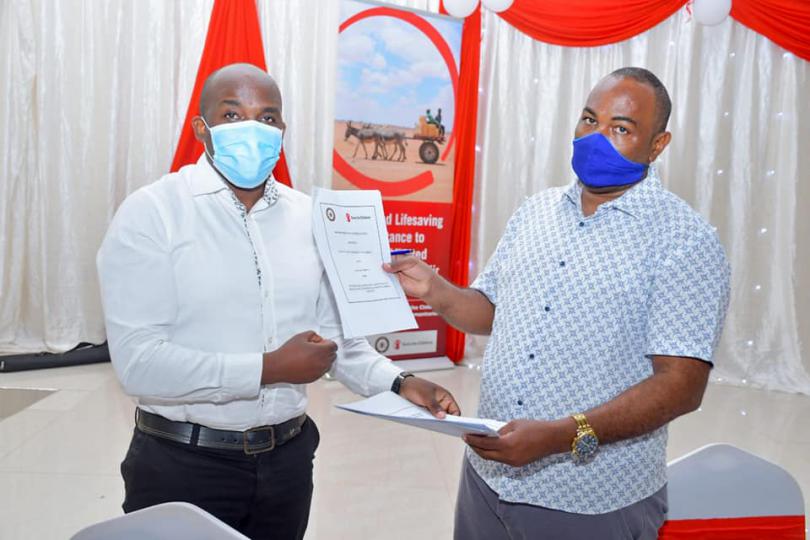 Photo: Kenneth Sisimwo, Save the Children's Director of Programme Operations (left) and County Secretary Abdi M. Ali. Photo: Garissa County Government Press Unit
"Save the Children is making a commitment to support children and families whose livelihoods have been affected by shocks and stresses of recurring droughts and locust invasions in Garissa. I want to acknowledge the support and the close working relationship we have had with the county government," said Kenneth Sisimwo, Save the Children's Director of Programme Operations, who signed the MOU on behalf of Yvonne Arunga Country Director for Save the Children Kenya and Madagascar.
According to Moses Emalu, Save the Children's Operations and Humanitarian Manager, the organisation will provide agricultural input supplies to enhance food production; support animal vaccination to enhance livestock productivity; increase access to and coverage of treatment services for child wasting and common childhood illnesses, integrating promotion of optimal maternal, infant and young child nutrition while strengthening linkages to other preventive strategies; and improve existing water supply infrastructures such as boreholes to enhance water sanitation and hygiene.
"We will strengthen the capacity of local partner organizations to complement the delivery of community interventions in collaboration with the National Disaster Management Authority (NDMA), county governments and other partners to achieve the intervention deliverables and enhance sustainability of the project effects," says Mr Sissimwo.
Cover Photo: A family in Wajir leaves their home because of the 2019 Horn of Africa Drought. Photo: Save the Children
Story by Delfhin Mugo