Happy to be back in school after seven months closure
By Delfhin Mugo
For 15-year-old Emuria , nothing can compare to the joy he feels for being back in school after many months of the Covid-19 pandemic-induced break.
"I missed my friends and teachers and I am happy to see them. Most of my friends come from far and I thought I would never see them again. We are now clearing the school syllabus so that we can sit for the final exam next year," he says with a big smile.
Learning through the pandemic, he admits, creates some unique challenges in the sense that he can't interact freely with his friends and has to maintain a distance from them in class.
Weary that some schools have been closed after several students tested positive for the virus elsewhere, Emuria says he doesn't have any fears at all but wishes the government and other education stakeholders would support students in acquiring face masks, hand sanitizers and hand washing booths to help prevent the spread of Covid-19 in schools.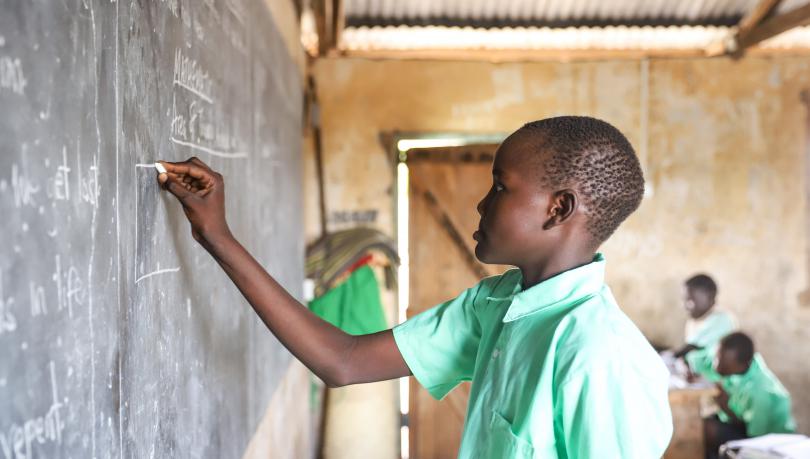 Emuria, according to Mr Sikuku David, the school's deputy head teacher, is an honest, hardworking and bright student. He is among his top five students in the school. He also holds a top leadership position in the school in a student admiration structure that mirrors the country's leadership and which is meant to instil leadership skills in students.
As the cabinet secretary for education, Emuria is in-charge of the school library and all matters pertaining education. He is also the custodian of the school's books inventory.
In Kenya, Grade 4, Standard Eight and Form Four students have been in school since October 12 after the partial reopening of schools. When Save the Children visited Emoria's class there were 38 students out of the usual 40, a clear indication of just how much students are longing to go back to school. The head teacher said the other two are being traced.
Lowareng'ak Boys Primary School is unique in a number of ways. For one, at 40, it has the highest number of candidates in the sub-county beating 50 other schools. This is also the highest number of candidates since the school was started in 1970. It is also the only boys-only primary school in the 77,000 square kilometres vast Turkana County.
So how did the students here learn of the nationwide schools closure and how did they feel about it? We ask.
According to Emuria, the Standard Eight students and those from far flung areas, who are lucky to be fed and accommodated within the school, were having dinner in the dining hall when their head teacher asked them to dash to the TV room and catch some news. The 7pm news bulletin was broadcasting on TV.
Earlier in the day, President Uhuru Kenyatta had, during a press conference in Nairobi, given orders for the Ministry of Education to close all learning institutions by 20th of March 2020 in order to prevent the spread of Covid-19. But in this remote village where power supply is available for only three hours a day (7pm-9pm), the news had just arrived. And students were not going to spend another day in school.
"As candidates, we did not expect such a thing to happen because we were eager to do our final exam and go to high school. And the worst of it is that our teachers could not tell us when we would be back in school," says Emuria.
In Kenya, as is the case elsewhere across the world, learning has been halted by the ongoing coronavirus pandemic. Yet, education remains the surest path to a better life through employment or entrepreneurship. Besides playing a critical role in keeping children protected through a safe and consistent place to stay while their parents are at work, education helps children to become productive and informed citizens. Additionally, in arid areas such as Turkana where access to food and water is a major challenge, children come to school for education but stay for the food, meaning that schools are a focal point for good nutrition for children.
When Emuria left school armed with his exercise books and a sense of doom, he says, it appeared like his dream of one day becoming a doctor and thereafter the president of Kenya was in great jeopardy.
When schools were closed, he says, like many of his friends, he had difficulties accessing education. The lack of remote learning gadgets that came in handy for school going children during lockdown such as laptop, television or even a smart phone was a major drawback. But even if these gadgets were available he says his uncle's home does not have electricity or solar energy to power them.
Without school to keep him busy and his mind engaged, he drifted into fishing in Lake Turkana and often times helped with household chores.
Save the Children is supporting the Save our Education campaign through various initiatives to ensure that all children return back to school now that they are re-opened.