GARISSA COUNTY TARGETS LIVESTOCK IN FREE VACCINATION DRIVE
By Stephen Astariko
Garissa County has launched a livestock vaccination exercise in Balambala sub-county, targeting some 150,000 cows, goats, sheep, camels and donkeys.
Livestock executive Mohamed Shale said the exercise has been necessitated by a recent disease outbreak in the area. He said the vaccination exercise will be free of charge and will be conducted by the livestock and veterinary services. The objective is to stop the spread of diseases which occurs as herders move their animals from one market to another while looking for pasture.
Livestock farming is the backbone of our economy. As a county, we will do everything possible to make sure that our farmers do not incur losses, Shale said.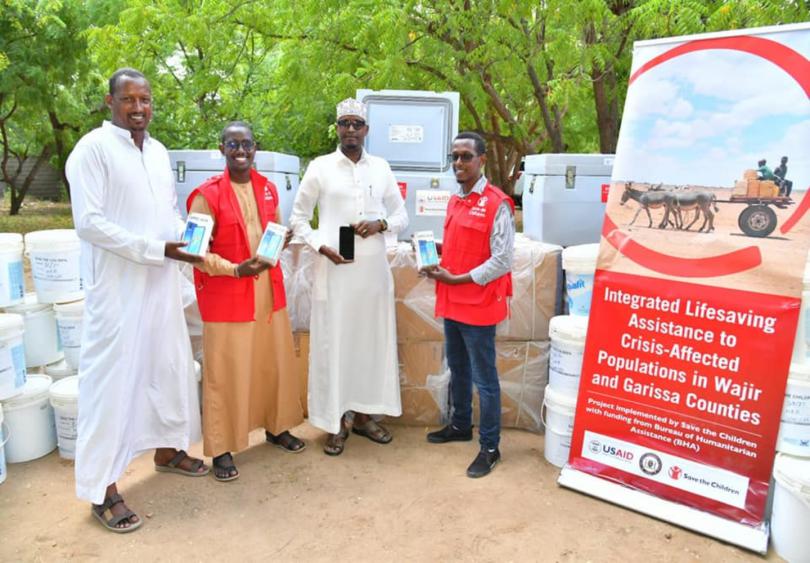 Agriculture and livestock executive Mohamed Shale, Livestock Director Haret Hambe and Save the Children Programme Manager Yussuf Gedi during the launch of livestock vaccination exercise. Image Stephen Astariko
I also urge members of the public, in particular the pastoralists, to take advantage of the free vaccination, deworming and supportive treatment for their livestock.
The exercise is a collaborative effort by the Livestock department and its partner, Save the Children.
While the department is providing technical staff, vehicles and vaccines, Save the Children is availing fuel and allowances for the staff carrying out the exercise. At the same time, the NGO donated 15 Oppo A54 smartphones to the Livestock department to support community disease surveillance efforts.
Save The Children has also donated 15 portable cold chain storage cooler boxes for the safe storage of vaccines during field livestock vaccination. Shale said the donation would help the department build its capacity in intervening in areas which previously posed a challenge to conduct proper disease surveillance and control.
Similarly, the Water department has also benefited from the donation of one DelAgua kit and its consumables, which it will use for testing water quality in various boreholes in county. Water chief officer Ahmed Abdi Noor thanked Save the Children for their generous gesture and immediately dispatched teams to the field with the kit to start work.
They will be testing water quality at boreholes recently rehabilitated and solarized by the NGO in Kone, Dololo Mindi, Bothai, Ali Emij, Nanighi and the one recently rehabilitated in Jambele. Save The Children has also given the Water department 62 buckets of 20kg chlorine for water treatment for the same boreholes.
Accompanying Shale and Ahmed were Donor Coordination director Mohamed Sahal, Livestock director Haret Hambe and Special Programmes director Abdinoor Ole Hussein.
Save The Children team comprised of programme manager Yussuf Gedi, WASH engineer Abdirizack Ibrahim, FSL officers Feisal Bihi and Sugow Mathey.
Cover Photo: Agriculture and Livestock executive Mohamed Shale when he launched the livestock vaccination exercise. Image|Stephen Astariko
This article was first published on The Star on 8th May 2022.