A FATHER'S QUEST TO SEE HIS TWO-YEAR OLD SON SURVIVE
Dr. Asma Awadh attends to Abinel at the AMREF Health facility in Kibra
During one of our community health outreaches in Kibra at the AMREF Health Facility, we met with 32-year old Michael Onyancha, with his two-year-old son, Abinel. As we converse with Michael, we can't help but sympathize with his son due to a persistent cough he has. Michael tells us that he has come to the immunization health outreach to seek treatment for his son.
Michael stands out from the crowd since he appears to be the only father that has brought his child for treatment. The facility is crowded with mothers and their children. The role of a father in being present in the life of a child is evident from Michael's determination to get his son attended to at the facility. During the Covid-19 pandemic, Michael, who worked as a bus driver for a touring company, lost his job. Due to the high cost of living, he had to relocate to Kibra informal settlement. He now works as a casual laborer in the area.
The greatest challenge as a father is ensuring that you have provided for your family, and most importantly, your children. Sometimes I sacrifice my meals so that Abinel doesn't sleep on an empty stomach," says Michael. "For breakfast, my family of three survives on twenty shillings ($0.20). My wife and I will split one cup of milk between ourselves and leave one cup for baby Abinel. I do not want to watch my son go hungry because it affects me psychologically. I have to ensure my little one grows up healthy, Michael says. Many residents in Kibra Sub-County are unable to access health services because they cannot afford it.
Many a times they're forced to choose between buying food for their families and seeking healthcare when they fall sick; a decision they shouldn't have to make because both are important. It is for this reason that Save the Children in partnership with Pfizer Foundation launched an immunization project in the locality. The overall goal of this project is a sustained reduction in mortality among children under five years in Kenya.
The project intends to achieve this goal through; increased immunization coverage; increased social acceptance, care seeking and health-promoting behavior for immunization services by families and communities in project sites; improved capacity of Ministry of Health (MoH) and National Immunization and Vaccines Program (NVIP) Division to steward the vaccines and immunization program.
I brought my son for a check-up when I heard that there was free provision of healthcare services here. My son has been having a persistent cough, trouble breathing, and a blocked nose for a year now and it has been hard to get him treatment because I have never managed to raise enough money to take him to hospital and to get him the treatment that he needs," says Michael. "I was very happy when I was informed about this outreach. My son has today been diagnosed and given medication free of charge!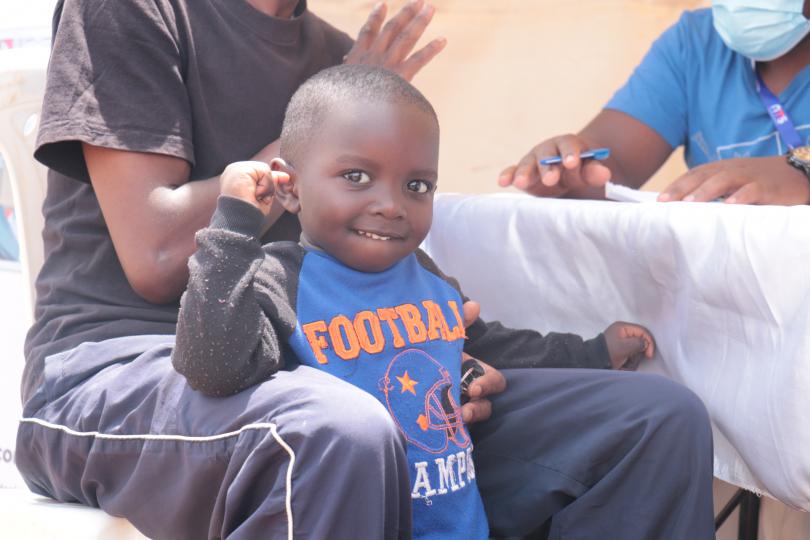 Michael's dreams for his child are big. He wants Abinel to survive, thrive and be the best he can be. It is heart warming to see a father who takes care of his child the way Michael does.
I want my son to be a leader in the future. I want him to lead a life that is better than this life I have given him in this place. I hope that he becomes a high-ranking officer within the Government, says Michael.
As we leave, we are encouraged with little Abinel's smile. It gives us hope that even if we face troubles in life, we should stay hopeful for a better tomorrow.