EQUIPING YOUNG GIRLS WITH LIFE SKILLS FOR SUCCESS
By Marion Kwambai
Glorious Nduta Wanjiru, 18 years, is the only female student in her Electrical Installation class at Mathare Electrical College. According to her tutor, Mr. Ayot, she is the youngest and most determined in a class of 7 students.
Glorious Nduta is breaking barriers by training in Electrical installations, which is a male dominated profession. Glorious asserts that she is studying at Mathare Electrical college by choice. Her decision to study Electrical installations was motivated by the need to build a better future for herself and the family. As a firstborn in a family of three children, she feels it's her responsibility to improve the living conditions of the entire family.
Glorious says "my mum is a tea vendor and my dad passed on when we were very young. The earnings from her business cannot sustain us since it was greatly affected by COVID 19. Going to school to study is one of the ways I can empower myself to be able to make a difference in our lives. I hope to see my siblings going to school without difficulties in paying school fees. Eventually I hope to take my family out of the slums. I can already envision that dream"
Glorious's persistence and determination has had a positive influence on her peers. Many indicate that they are so proud of her and are motivated to venture in the male dominated skill areas. According to her, family and friends are her greatest cheerleaders.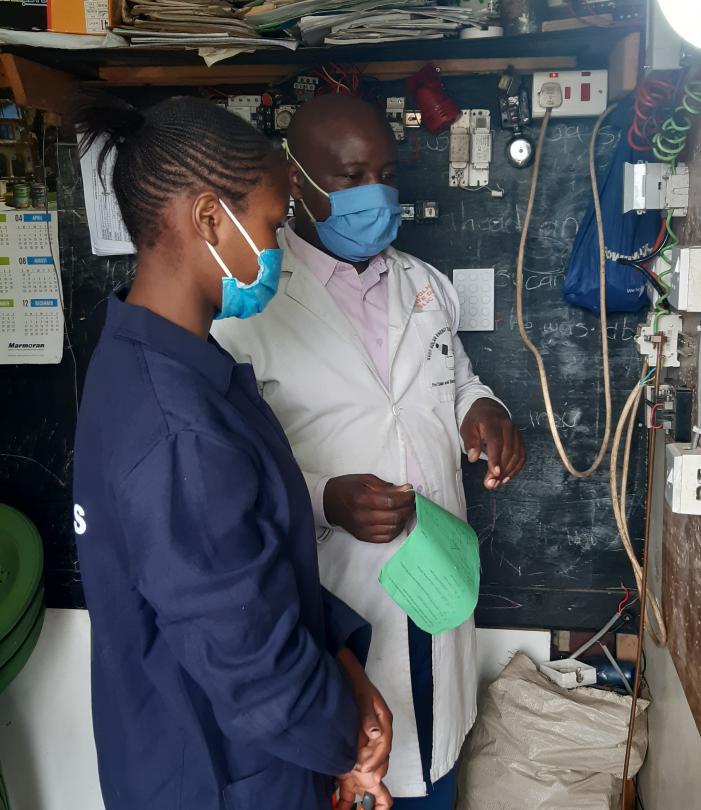 Jack Ayot, a trainer with 24 years of experience, has been training Glorious for the last 2 months. He says that male dominated skill areas are very advantageous for females as they have an upper hand when it comes to job opportunities. We are very grateful to Save the Children for providing the youth in the slums with such opportunities to empower themselves. However, we encourage more female students to enroll in such courses when chances like these present itself," said Ayot.
"Such programs are very beneficial to us, it gives us hope in life," said Nduta.
COVID-19 has made life very difficult in the informal settlements since a large population is dependent on casual labor. Most of the residents in Mathare lost their jobs and are unable to earn a living. Providing such opportunities to the youth will enable them generate income and support their families by cushioning them from the adverse economic impact of COVID-19.
Save the Children has been implementing a livelihood project offering an Enterprise Based Technical Vocational Education and Training (EBTVET) to youths aged between 14-26 years in urban informal settlements. The project aims to equip the youths with skill sets to enable them start up income generating activities in order to improve their livelihoods.
So far 81 youth, 36 male and 45 female have enrolled in different courses such as electric installation, motor vehicle technology, hairdressing and beauty therapy, tailoring, plumbing, electronics, video editing, fashion design and garment making, wielding and ICT. They will all graduate in December this year.