ACCELERATED LEARNING PROGRAM GIVES HOPE TO OLDER CHILDREN IN TURKANA
By Dorothy Waweru
Under the giant Milimatatu hills lies Nakapelewoi Early Childhood Development center (ECD), a haven for young children seeking to quench their thirst for education in Turkana County. Beautiful voices of children singing just before lunch break welcomes us. As soon as the bell rings, little boys and girls dash out of their respective classes heading to the playground.
We meet 11-year-old Lokodo, donned in a beautiful Maasai shuka with stunning layers of beads on her neck. She is accompanying her 5-year-old sister to play at the center's playground.
Lokodo tells us that she is the first born in a family of six, with two brothers and three sisters. She has traveled far beyond Milimatatu hills to bring her little sister to school. She adds that her other siblings are also attending neighboring schools. Asking her whether she attends school herself, Lokodo looks to the ground and mumbles:
I would have loved to attend school but my father is very sick and I was told to remain home to help my mother with house chores such as fetching water and firewood. I occasionally accompany my young sister to school to protect her from bullies, she says.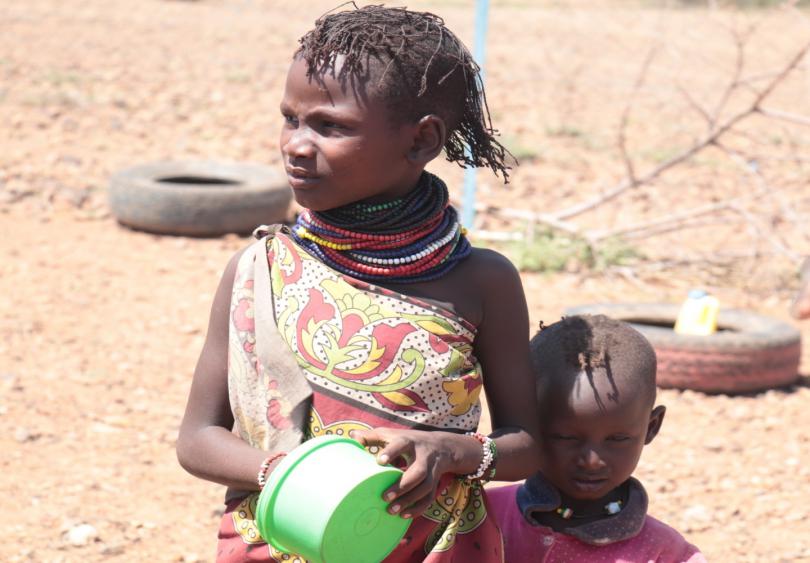 Photo: Lokodo and her young sister right after taking their lunch. Photo Courtesy| Dorothy Waweru,Save the Children
Lokodo's story is very common among girls in Turkana. These girls are faced with competing priorities that make it difficult for them to access education. Statistics from the County Government of Turkana show that girls face 1.3 more times likelihood of missing school than their male counterparts.
Some of the challenges shared by Lokodo are very common for the girls here who are tasked with home responsibilities at a very early age. This ECD center is a safe place where children under 5 get education and enjoy playtime with their peers, says Miriam Atonia, ECD officer, Save the Children.
Some of the prevalent causes of girls missing school in Turkana include early marriages, retrogressive cultural practices, and the nomadic way of life among other factors.
Last year, President Uhuru Kenyatta and UK Prime Minister Boris Johnson co-hosted the Global Partnership for Education summit (GPE) in an ambitious drive to raise $5billion to support education programs in 76 lower-income countries. Locally, the proceeds from the GPE summit are to be channeled towards helping vulnerable children such as Lokodo access safe and quality education.
The 11-year-old is one of many girls in Turkana who hope for a better future; a future where they are assured of surviving and thriving despite tough living conditions and challenges of economic inequality. She dreams of going to school one day and getting a job that will enable her to help her parents and other siblings.
In line with our Country Strategic Plan, goal number four of ensuring access to safe and quality education, Save the Children is working with the Turkana County Government to ensure children like Lokodo enjoy the full benefits of education and hopefully, live to see their dreams come true.
Through the Ministry of Education, Save the Children has partnered with Nakapelewoi ECD Center to ensure that Lokodo and others like her get accelerated learning. This means that they get alternative education sessions since they are beyond the cut years for enrollment into the ECD classes.
I am very happy because I get to learn. Even though, I am not able to attend school regularly, I have been taught how to read and write by the teachers here. I also go home with a full stomach because I join the rest of the children during meal time, Lokodo says smiling.
To help other children missing out on education because of competing priorities, Save the Children has been conducting parental engagement sessions in Lokodo's community to educate parents on children's rights, among them the right to access safe and quality education. These sessions have led to increased ECD enrollments especially that of girls in Nakapelewoi ECD center.
As we celebrate the Day of the African Child, Save the Children commits to eliminate harmful practices affecting children and in scaling up interventions that promote the rights of children including the right to access safe and quality education.
Cover Photo: Mirriam Atonia, Early Chilhood Officer interacting with Lokodo. Photo courtesy|Dorothy Waweru, Save the Children